News
September 25, 2010
Ok, so the wiki has become inactive over the months; now we're making a move to get it back up in running. So, we're restarting the site-wide continuum; characters can be and are encouraged to be remade.
April 30, 2010
As April comes to a close, the head admin has managed to complete the official logo of the fanon, seen at the top left corner of the site.
April 17, 2010
The Head Admin has picked 3 users to be the first administration team for the site. These users are Ten Tails, Tsuki, and Lavi.
April 8, 2010
To better organize, and to speed up the plotline, the storyline's talk page has been created, which holds a sign up list for the first 3 arcs, which timeline-wise, happen around the same time.
April 4, 2010
After a few months hiatus, DtBF has begun to grow. Due to this the main storyline for the canon has been created. It has been titled Darker than Black: After Sunset, and the first arc is already underway.
January 3, 2010
Today the Wikia's skin has been changed to match the DtB Wikia, and we've also started to incorporate their templates into our system too.
January 2, 2010
Happy Late New Years, today DtBF (Darker than Black Fanon) is started and we hope to open to the public soon.
Featured Article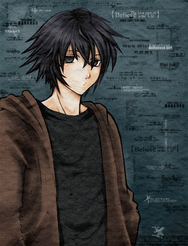 Ryan is a young Contractor with the Messier Code RJ-101. Similar to Hei, Ryan has a double persona; to the public, he is a normal high school student with high grades and a small group of close friends and no family, as they were all murdered. He even has a part time job at a local daycare, taking care of younger children...
Main Article: Ryan
Featured Quote
"The life of a contractor is that of three guns: one pointed at your face by your enemies, one pointed at you enemies by you, and one pointed at the back of your head by your allies."
Community content is available under
CC-BY-SA
unless otherwise noted.